Free Shipping Worldwide – Discounts Apply for Quantity Orders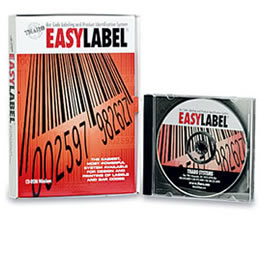 Whether you are looking to personally put price tags on all of your company's items or you are wanting to find a way to simply keep better track of inventory, EASYLABEL 6 Software makes your life more simple. EASYLABEL is a software program that allows users to design and print labels with human readable alpha -numeric characters, many types of barcodes including 2D, and serialization. You can also print RFID smart labels (EASYLABEL 6 Platinum required).
If you are looking for a reliable program that will help you design labels more easily, here are some reasons why EASYLABEL 6Software is the one to choose.
Keep Costs Low
From small mom-and-pop stores to corporate chains, every penny counts. EASYLABEL 6 makes an effort to ensure that clients are saving money and not having to worry about continually paying for paid upgrades to the service. In fact, they've only had one pay upgrade in the last 30 years.
This makes for a lower overall cost of ownership, without having to compromise for less quality on label making services. In addition, you can buy EASYLABEL 6 software online and get free shipping worldwide. From the moment your company buys EASYLABEL 6online, you'll be saving money on your business's operating costs.
Easy To Use
With the Windows based "What You See Is What You Get" (WYSIWYG) operating system, EASYLABEL 6 aims to provide clients with a service that is incredibly easy to use. Even those that aren't tech savvy should be able to quickly install the program and easily begin making labels without much effort. In the event that a client needs even more assistance, they can rely on the interactive tutorials for further information and step-by-step directions on how to design a label format.
In addition, EASYLABEL 6 Software comes in 14 languages, which will help clients around the world easily create the labels that they need. Some of the industries that rely on EASYLABEL 6 include:
Retail
Pharmaceutical
Automotive
Medical
Winery
And Many More!
Added Tech Support
EASYLABEL 6 is supported by many of the most popular printers, which means clients won't have to worry about figuring out whether or not their current system will work properly. However, if a client is having difficulties determining whether or not their system is right, EASYLABEL 6 also offers free USA based technical support for those who need added assistance.
Unlike other companies that will increase their tech support fees each year, EASYLABEL 6 has no annual support contracts or fees. Instead, you get the best service guaranteed with a reputable brand that has been in service for over three decades.
When it comes to purchasing a label design software program for your company, don't look anywhere else other than EASYLABEL6. In addition to competitive pricing that won't cost your company a fortune, EASYLABEL 6 Software offers unmatched support that will ensure that you get the most out of the program.
And with free worldwide shipping, you can buy EASYLABEL 6 Software online and be printing your own labels before you know it.